I've just returned from 6 days on Gabo Island pulling and cutting 14,000 mirror bush with a team of 8 willing workers from Mallacoota. This invasive weed had a signficant embedded presence in the beautiful pink granite vista around the lighthouse and accomodation cottages. Over 5 years (with 2 frustrating years out because of covid restrictions) the team has managed to eradicate its visual presence on a significant section of the coastline and we look forward to following up and continuing this work in years to come. Apologies for the delay in responding to those who ordered while I was away. Internet reception on the island is very patchy and we also had to stay another day due to rough seas.
Gabo is just offshore from Mallacoota, on the south-east corner where Bass Strait meets the Pacific Ocean and Tasman Sea, and hosts a multitude of seabirds. Inspiration for my 2 new designs for spring/summer comes directly from Mallacoota Inlet where the migratory birds feed and Gabo where oceanic birds circle.
Introducing my first new design for Spring: Shy Albatross.
The 'Shy Albatross' is Australia's only endemic albatross, breeding exclusively on 3 remote islands off the Tasmanian coast. Listed as vulnerable, threats include marine pollution, global warming & bycatch due to longline fishing. Food includes squid, fish, jellyfish and crustaceans.
WWF, CSIRO, Tasmanian Albatross Fund & the Tasmanian Dept of Primary Industries, Parks, Water and Environment are installing artificial nests on Albatross Island in Bass Strait to assist breeding.
Donations will be made to this project from sales of this T-shirt design.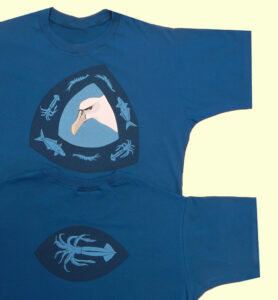 TABLE RUNNERS/ROD HANGINGS and CUSHION COVERS:
I have also created 'Shy Albatross' Table Runners/Rod Hangings and Cushion Covers.
My second new design, 'Eastern Curlew', is currently only available on Table Runners/Rod Hangings and Cushion Covers. This design will be available on T-shirts soon and I will send another newsletter when in stock.
The 'Eastern Curlew' design was created as a wall piece for an 'Overwintering' exhibition in our local Mallacoota Art Space. This exhibition focused on our migratory birds and motivated me to tackle one of my favorite birds, Eastern Curlew, sadly also endangered.