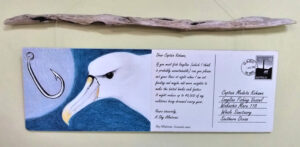 March 31, 02022
 As most of you know I'm predominantly a one person business doing all the designing and printing, with one precious machinist to assemble the garments and one precious husband to assist me with heavy lifting, laying out and machine cutting of fabric rolls when required.
In order to restore and refresh, I've decided to take a complete month or more away from my business during May into June. So for the first time ever I will shut down the Shop component of the website until my return.

I am here on deck right through April ready to fill orders and working on new designs for later in the year. So if you need anything before mid-June-ish when the Shop will reopen, please go ahead and order now through April before Shop closes on May 1st.

The image at the top of this post is one of a set of three 'Postcards from Gabo' – small hanging pieces that I created for an exhibition in our local Mallacoota Art Space called 'Text in Art'. That was four years ago and I have always intended creating a Shy Albatross design from this original piece so am currently working on a design that will feature food sources rather than threats from longline fishing. The Shy Albatross is Australia's only endemic albatross and they breed on three remote islands off the Tasmanian coast. We see them here in the S-E corner, around Gabo Island and offshore.

I look forward to filling any orders you might have before I go and will post another back-on-deck blog here in June when the webshop is restored.

Warm regards
Alison 🙂