November is Endangered Species Month at Alison Green Designs.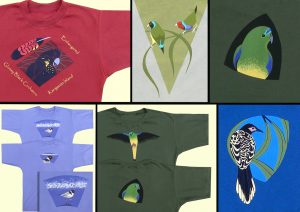 The first ESM in October 2013 was so successful I decided to maintain the donation program for endangered species designs as a permanent part of my business.
Now with 7 endangered designs in the range and more to come, I've created a special Endangered Species Designs Page and during November, $6 will be donated from the purchase of any product on that page i.e. we will match your $3 donation with our $3 and give $6 to the relevant recovery program for each species.
Orange-bellied Parrot – donations to Moonlit Sanctuary's OBP breeding program to enable release of captive bred birds to augment (& hopefully save) the dwindling critically endangered wild population. Read more…
Hooded Plover – Birdlife Australia's 'Beach Nesting Birds' program
Corroboree Frog – http://www.corroboreefrog.org.au
Regent Honeyeater – Birdlife Australia's 'Woodland Birds for Biodiversity' program
Gouldian Finches – Save the Gouldian Fund
Gould's Petrel – $$ go to National Parks to help fund nesting boxes on Cabbage Tree Island, Port Stephens, NSW.
Kangaroo Island's endangered Glossy Black-Cockatoo sub-species.