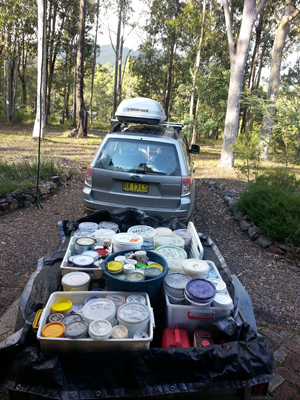 A New Colour Design to celebrate 3 years in Mallacoota – a great move both personally and workwise.
The photo above was us preparing to head out of Wallaby Gully 3 years ago today – June 19 – to a new start in Mallacoota. Some new customers have only known me as a Mallacoota local but I worked for 25+ wonderful years in the big red shed in Wallaby Gully in the Hunter Valley. It was three times the space but I have easily adapted to my smaller studio space here and happily producing the same amount of work.
There is a fabulous Mallacoota local who only wears black. He loves my designs and enthusiastically encouraged me to try the Wedge-tailed Eagle design on black. So I did…and here it is.

Wedge-tailed Eagle is still also available on light brown, the original colour.
Clicking on the design name below images above will take you directly to page 4 of Adult T-shirts.

Cheers everyone,
Alison